LEATHERED

So? You think I look a little smug here? Well, that's what tight black
leather does. Or at least that's good protective coloration. Especially in
a gleaming satin top that sorta – you know – makes your breasts a little
pronounced? Passersby were making steamy comments while I posed.
"Go girl!"
"Lookin' Fine, Babe!"
"Flaunt 'em Honey!"
Actually I was a lot more, embarrassed than I looked. I mean this was FULL
daylight. Cars passing. People walking the city's streets. And me in shiny
red curls, four inch spikes, a gaspingly cinched corset, C cups a jiggle
while strangers stared and smirked – at the moment…
A bitsy leather skirt can't be hidden. Nor can you do much about all of
that lacy black leg that flashes with your every sway and jounce. With my
belt tugging me in even tighter, breathing is tough. Fast moves out of the
question. Well, you sure feel a lot like bait when your wearing a fitted
black leather mini. Don't even think about what you show when you sit. Or
what you expose in a car seat, no matter how you tug and twist.
Imagine a date in an outfit like this. It better be with a gentleman.
Because if your escort gets fresh and your cinched and tottering, snugged
and jiggling…..
….. and mincing around in golden satin, in full daylight, zipped tightly
and leathered – at the moment…
______________________________________________________                             LEGGY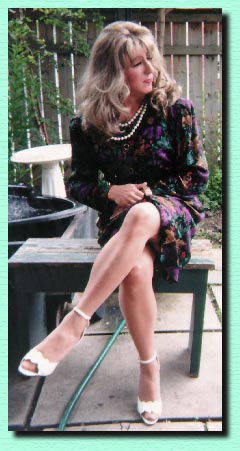 I didn't really really really want to wear this dress. See the print? See
how it hugs my body? Now imagine how it caresses me as I move. It makes
even the teeniest motion seem so very sexy.There's something about a dress,
even one that covers me from wrist to neck … Something so femmy. I mean
what guy-thing looks like this? And here I am, in this … this invitation
to look – at the moment…
I didn't color my nails. Bad enough that each of my toes peeks through
their nyloned prison AND through the tips of these ankle strapped man
killers. You know what shoes like this invite don't you? Everyone thinks
that I'm in heat or something, perched way high on needle thin spikes. And
I'm BLONDE!
Blondes on heels, in dresses look like … like playthings. They look like
some kind of boy toy or something. I wanted to feel that sensation. So I
came to this little restaurant all decked out in this dress and these
heels, with my darling purse in my flouncy blonde curls. And … I locked
my keys in my car! Yipes!
So I'm stuck here, until … until I can get enough nerve to call a cab. So
what to do? Should I sit out here and wait? Or go in? But while I sit, well
this skirt is so much shorter than I thought and I kind of feel like a
display or something. But if I go in, well this is a single's bar and…
gee a girl alone could get the wrong kind of attention. On the other hand,
just what is the wrong kind of attention when you're a leggy blonde- at the
moment…