James sulked in his room for almost two hours. I heard him visit the bathroom once and then he thumped downstairs and slammed his office door. Me? I just sip a long cool drink, watching a little day time tv and catch up with my magazine reading.
It is all advancing as Genie at Gatemare Ltd had said. Her library of information was too voluminous to actually read in its entity but all the parts about how the 'boy' reacts with anger and disbelief to discovering he is no longer in charge, were very true.
The PFDs next promised an 'attempt to regain control of the situation.' This could be through anger or pleading.
Both proved wrong. James tried humour:
'Hey, looks as though you are right, as usual!' he grins, standing in the doorway.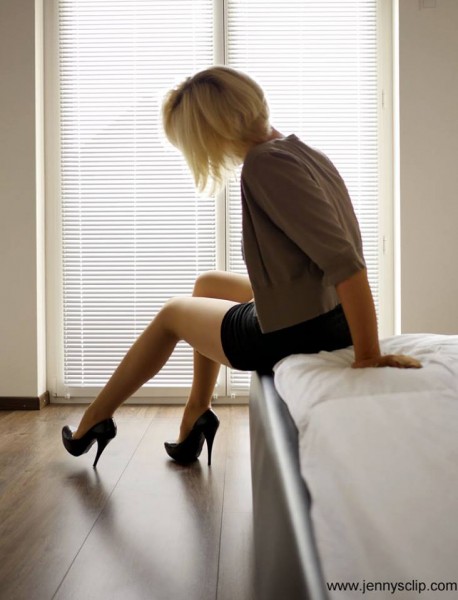 Only glancing over my magazine long enough to see that he has dressed in jeans and short sleeved shirt without permission, I ask, 'oh?'
'Yeh. Seems it really is a heavy duty stainless steel. You know not chrome plated or whatever.'
'Uh-uh.'
'How about that, hey?'
'Indeed. How about that?'
He stews for about 30 seconds before slumping on the sofa next to me. 'Look I really appreciate this. I mean this effort and research. I mean it is amazing. I am really grateful.'
'Are you now?'
'Aw, don't be like that. I am sorry Honey. Truly.'
'Good to hear.'
'But I can't keep this thing on until Friday. I mean, I am bursting inside it.'
'That was the arrangement. Do you recall?'
'Yeh, but what if it hurts?'
I give him as icy a stare as I can. 'And does it hurt?'
'No. No. It is surprisingly comfortable.'
I flicked over a few pages. 'That is because it is an appropriate size for your little cock.'
'Jeez! Sophie! Will you ease up on that. I'll get a fucking complex.'
Grimacing, I vow with all my heart to end that terrible swearing.
After a long pause he asks, 'Look, babe, if I agreed to your requests, do I get to have it off?' He laughs at his joke, wanting to play the funny man. 'I mean take the cage off not, you know, have it off with me.'
Keeping my serious face, I place my magazine in my lap and stare at him with a curled up eyebrow. I fancy it would be how a teacher would look at a naughty boy. 'Only the Mistress decides when her boy is released. There is no discussion. No reasoning. No debate.'
He nods, his jaw hanging open. I know he is aroused. He loves me being dominant.
'Yeh. Right. How it should be,' he chuckles.
God, he just didn't get it!
'Ok then Sophie. I agree.'
Wanting him to remain on edge I flip a few more pages before replying. This is my decision, not his. 'Ok. Go and strip off. Wait! I haven't finished. Hang your clothes up properly. I don't want a messy boy on my hands!'
'Yes Mistress.'
'Then report back to the dining room in kneeling position one.' I turned over a page and muttered, 'if you can remember what that is.'
'Yes sure Mistress. Be back in a tick.'
Returning to the dining room I calmly retake my position on the high backed chair. A few of the dominant wives had mentioned that there should be a set place where discipline is handed out. This concentrates the mind of the boy. He learns to understand that when summoned to that place he knows is to be disciplined, but doesn't know the degree. It could be a simple admonishment, a writing exercise, being sent to bed or something more fearsome. He will learn of his fate when the Mistress deems it right to share it with him and not before.
James enters with a forced, brave smile, his hands cutely clasped over his diminutive cage. He drops before me, spreads his knees before placing his palms face up on his thighs. He tries a quick glance up at me but isn't sufficiently brave to hold it.
'Good boy.' Any appropriate behaviour has to be rewarded verbally, in order to reinforce and encourage improved future conduct.
He nods. Thankfully he isn't daring to say anything this time. I believe James has crossed a line of understanding though he is yet to learn of how many more lines he will cross.
'You were a very naughty little boy earlier.'
A sigh. 'I am sorry Mistress.'
'Sometimes sorry isn't good enough.'
He actually holds his breath, but doesn't interrupt.
'So little Jamie, where are the keys to your tiny chastity cage?'
'Well, I erm, I guess I don't know.'
'You guess?'
'No Mistress. I do not know.'
'So how are you going to take it off?'
'I cannot.'
'Be a good, little boy and remember Mistress with everything you say.'
'Yes Mistress. Sorry Mistress.'
His cheeks grow red and his head remains bowed. This is easier than I thought. All the dominant wives said to keep a constant eye on the boy in the early period, but that it would get easier.
'You have researched the Attica Hell 2?'
'Yes Mistress.'
'Speak clearly! I don't want my boy mumbling like a naughty child.'
'Yes Mistress.'
'Good boy. And what did you learn little boy?'
I could tell he was aggrieved at my constantly calling him a boy. James loved the idea of being a chastity caged maid and probably hadn't thought of himself as a boy. He would be my maid one day but according to my exact instructions. It needs to be on my terms, not his!
'Well Mistress. It is impregnable. It isn't plastic like some. Nor is it plated. The man's cock fits into it so tightly you can't get steel clippers in there and …'
'I am sorry?'
Huge, troubled eyes look up like a puppy how knows he has done wrong. When had anyone spoken to him before in that manner?
'Sorry Mistress?'
'You said a man's cock. A man's cock fitted inside it.'
His eyes fall to the carpet.
'I think you mean my little boy's little dicklet, don't you?'
Oh he did not like that! This was hammering on his male self-respect. I want to take him up in my arms and reassure him everything will be fine, so long as he behaved. But I have to be cruel for now. Better cruel now than later, all the women said that.
'Yes Mistress. My little, erm, dicklet.' He swallowed so loudly I am sure they hear him out in the street.
Brushing my high heeled foot against the cage I listen as he moans with pleasure. 'In fact little boy I am going to take that cock off you.'
His head shoots up, as if on a spring. He is terrified.
'That sorry excuse for a little boy's dicklet is now mine.'
'Yes Mistress.'
You have been told to speak up.'
'Yes Mistress.'
'Better boy. That worthless little encumbrance between your legs is now mine. It may be attached to your body but I own it. Understand?'
'Yes Mistress.'
I am afraid I laughed. He didn't understand, poor boy, but I ruffled his cute dark hair and said 'Good boy.'
'You must keep my little cockette clean and always refer to it as mine. Ok?'
'I think so, yes …'
'Oh please do not think little boy. We will be here all day. What is that between your legs, little boy?'
He cheeks were fire engine red. 'Your little dickette Mistress.'
'Yes, I do believe it is. My little dickette.' Oh if I could have put my fingers down inside my panties there and then I would have done so. Sheer empowerment. I was pulsating with power.
'You are a good boy. What do you say when I give you a compliment?'
'Erm, thank you Mistress.'
'Good boy.'
The next step is a huge rung up on the poor boy's training.
'Now be a good boy and run up to my room and look in the top drawer where my panties are kept. Now you are not allowed to look at them, like a naughty little boy. Just take out the hand cuffs and the lengths of chord and bring them to me.'
'Yes mistress.' He glances, his face a cute picture of uncertainly. Was he really allowed to stand and go? I simply raise an eyebrows and he races from the room.
Laughing, I can hear his feet on the stairs. He was actually running like he had been commanded!
Whilst he is gone I check the cane beneath the sofa in the dining room and am ashamed to say that whilst crouched down I actually put my hand between my legs to rub at my pussy.
He is back in no time. Time to begin.