If you wish to catch up on the previous parts I have compiled them into a single collection that can be found here
Sophie Takes Charge 10
The following morning Little Jamie is full of contrition. I had sent him to bed early and he didn't dare make a single effort to remonstrate. His searching for the keys had genuinely riled me and he now feared the power I held over him.
He had slept in the spare bedroom, as I had directed him.
So now, I am awoken by Jamie with his clattering tray of breakfast. Wow. I didn't even get this treatment on my birthday. Over his chastity cage he is wearing the same pink ribboned panties as yesterday and a little boy smile, full of hope. His pretty blue collar is fastened around his neck. As it is unlocked I have no idea whether or not he slept in it, but I like to think he did.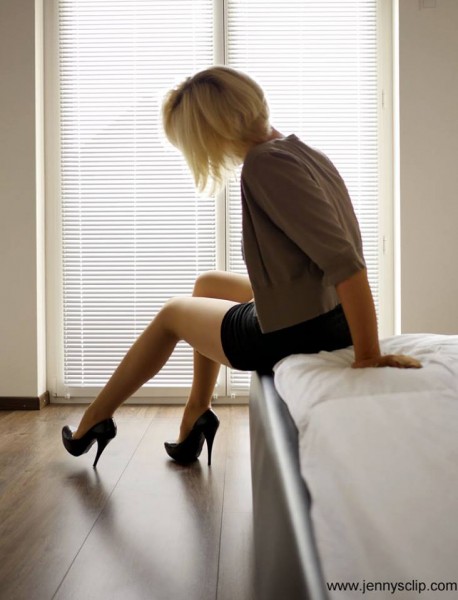 'I put marmalade on your toast Mistress, just as you like it.'
I laugh. 'That's a good boy. Just place it here over my lap.'
He does so, his eyes not quite meeting mine. Then he stands there, awkward and lost.
'You know this does not make up for trying to find the keys, little boy?'
'Yes Mistress. I am sorry. I just got, sort of, well, a bit desperate.' He glances at me to see if his remorse has any effect.
'Weren't you told that they keys weren't even in the house?'
Blushing he looks down at the bed. 'Yes. Yes, I was.'
'Uh huh. And weren't you told that you would never find them?'
'Yes Mistress. Yes. Sorry.'
'Do you think I would leave anything important where a naughty little boy like you could find them?'
He winces. 'No. Not really. You seem to have thought this out.'
'Yes I have little Jamie.' I pause, a little of the rage from yesterday rolls through my mind. I try to swallow it and speak calmly. 'And you used my Christian name.'
He shakes his head as if trying to erase the memory of his action, but remains silent.
'And didn't I tell you not to use it? Do you think you are an adult?'
Sighing, his shoulders tensing, he shakes his head. 'I'm sorry Mistress. Really I am.'
'Uh-huh. When do I release you from your cage little boy?'
'Oh. Monday lunch time Mistress.'
'Do you think naughty little boys get released on Monday lunch time?'
He doesn't like that. His teeth grit together, his red face darkens but he replies evenly enough, 'no Mistress.'
'As a sentence little Jamie. Like a good boy.'
'Naughty boys do not get released on Monday lunch time.'
'So what sort of boys do get released?'
A pleading glance from him is met by my hard teacher face so his eyes drift back to the floor.
'Only good boys get released on Monday Morning Mistress.'
'Good, little boys,' I emphasise the 'little.'
'Yes Mistress. Good little boys get released on Monday lunchtime.'
'Do good little boys use the Christian names of adults when addressing them?'
His fists clench. 'No Mistress. Good little boys do not use the Christian names of adults. I am sorry Mistress.'
'I will cane you six times as soon as I get up.'
I hear him moan under his breath but he says, 'Yes Mistress.'
'Dismissed.'
'Yes Mistress.'
As he reaches the door I add, 'Oh. And obviously it will be Tuesday lunch time now when you will be released.'
'Mistress!'
I ignore him, settling about the toast, which is cut a little too thin for my liking. The tea is too weak as well. Still, I have plenty of time to improve his domesticity.
An hour later, after his caning, which he accepts like the good boy I know he can become, he showers and, as directed, shampoos his long hair. I sit him down in a fresh pair of baby blue panties before the wardrobe mirrors to blow dry his hair. This gives it more body, makes it thicker, so it bushes out around his head in a neat fashion that is at once feminine and soft.
As he takes in the final result he grimaces, before asking 'Mistress. I am not complaining. But is this going too far?'
'No. It suits you. It is fine. Tomorrow I will show you how to do it every morning.'
He is surprised but simply responds with, 'Yes Mistress.'
Using two fingers beneath his chin I raise his face so I can study it in the mirror. He always had a boyish, soft, chubby appearance but it requires a little work to help de-masculinise him. I use a light foundation and a pinkish powder to give him colour and shape around his cheeks and to soften the jaw line. I was no expert but there was a definitely a subtle improvement and that was all I was after. I didn't want him to be too girlish. Maybe one day, but not just yet. I just needed him to be less of a man.
'Hmm,' I study his eyes and decide a brown mascara would be understated and generally unnoticed by most people, though of course thick black around the eyes is far sexier. Maybe try a deep black a little later in his development.
For his part James sits compliantly in the seat, though he squirms enough for me to know I am getting to him.
The ladies in the online forums spoke of the excitement of creating a truly submissive guy to whom they could do anything. I wasn't there yet with Jamie but I could see how this could work out.
I grin. 'Not bad Little Jamie.'
'Can we wash it off now Mistress?'
'Oooooh noooo!'
'But Mistress, suppose someone sees me?'
'I wouldn't worry your little head about it too much little Jamie.' I run my hand through his gorgeously thick hair. 'We don't want anyone mistaking you for a real man do we?'
He hangs his head. 'Mistress. I know this is sort of part of my fantasy, but it is just a bit scary. You know, not having a say in anything.'
'Aw. But you are mine aren't you?'
'Yes Mistress.'
There is a sigh in his voice that irks me. For years he has gone on about wanting to be dommed like this, just like my previous husband. Only my 'ex' was always topping from the bottom. This time I need to ensure that I am in charge and that Little Jamie doesn't continuously mither me about his needs. Once it starts it never stops. As the ladies on the web sites had also discovered. Nip it in the bud from the outset. Nail them down from the beginning, that was the guidance on offer.
I fluff up his hair. 'Don't worry about it. It is very subtle make up. Very natural, few people would even know it is there.'
'Yes but it makes me look like a girl. I am just saying that if …'
'Hush now Little Jamie. I am in charge. You are my little dolly today. It is time to dress you up.'
Ah, now that has got his interest.
'As a maid Mistress?' He grins.
'Noooo. Not yet my adorable little boy. But I think you will like it!'
And he does.
I give him the extra strong support tights with bottom and thigh shaping and watch with amusement as he drags them on.
'Oh Little Jamie. Be more patient. Roll them up first and delicately unroll them. You're not some beefy, smelly man hauling up his socks!'
Eventually he is easing them around his hips as I smile, 'they will do wonders for your figure.'
As the panty hose snaps into place around his waist Jamie runs his hands over the steely smoothness holding him together. I am sure none of his own cross dressing garments match this for tautness, not even when they were new.
'Excellent,' I am grinning form ear to ear. 'Truly wonderful. Now this. It's a body shaper, it is from the Miracle Worker ranger. It'll give you an hour glass figure.'
My husband's eyes widen, his lips fall apart in dreamy lust. 'Wow. I have always wanted to try something like that!'
'Now is your chance Little Jamie!'
The Miracle Worker has to be rolled up, stepped into and dragged as far as the hips. Then the top part uncoils upwards while the bottom part rolls downwards.
'I don't think I'll ever be able to get this off again,' He laughs.
I run her fingernails down his cheeks. 'You're allowed to remove it when sent to bed for sleeping darling. Then straight back on in the morning.'
His laughter falters away as he notices my serious expression.
Stepping back, I see a person who is most certainly not male, not quite female but definitely feminine. The shape and face show a girlish figure but the stance and mannerism are decidedly male. Jamie falls somewhere between the two stools already.
A quality of the sight excites me. I love the idea of having a masculine guy chase me before being put off the chase when learning I possess a husband. However, when actually seeing the sissy in the flesh the masculine guy realises he can take me. It is a hot fantasy.
No real man would be intimidated by the sight of my hubbie when he looks like this.
'Ok, now this. It's one of my old blouses but was always a little too roomy for me.'
Holding out a white shirt that buttons between the legs I hand it to him, frilly collar first.
He pulls it on, the Miracle Worker helping it shape around him as he buttons it to the top. 'Damn these buttons being on the wrong side.'
I slap his leg with a sharp whack bringing surprise to his cute lightly made up face.
'The buttons are on the correct side for you Little Jamie. And do not say damn again, else I will extend your period in the chastity belt by another day.'
He is nonplussed. 'But da…erm, that word, isn't a swear word Mistress.'
'It is if I say it is. And yes I do say it is a swear word. Don't use it again else I will ensure you'll regret it.'
'Ok, yes, of course Mistress.'
I'm annoyed at the fact he won't take my word that 'damn' is a cursing expression but I know time is pressing so no point in wasting it by arguing. I smile as he reaches awkwardly between his legs to attach the fiddly tiny buttons that will pull the blouse taut over his streamlined curves.
'Now these stretch pants. I bought them an age ago. They have shaping properties too, around the hips and buttocks.'
He pulls on the leg hugging pants.
'These are so tight they might as well be pantyhose, Mistress.'
'That's what girls wear Little Jamie. Only men wear loose clothing. We girls like to show ourselves off to men.'
I can see poor little Jamie fears that by pulling the waist connections together they might snap. Everything will feel so delicate to him after men's clothes. He even treats the tiny pants zip as if it will fall apart if he uses any effort. He gently tugs it up until his entire body is moulded and erotically held together by industrial elastics.
'Finally these ankle boots. They are girls but the heel is only small so I guess could pass as a guy's pair.'
They are brown, with zipped up sides and look anything other than man's apparel to Jamie. But I can tell he is aroused and imagine his dick crushing against the tiny chastity cage. Dressing in girl's clothes is heaven to him, he has told me often enough.
Now his entire outfit is so smooth and tight as to be bursting with excitement. I bet he'd do anything to be allowed to cum right now.
With the boots zipped into place, he stands unsteadily before me, finally appearing very feminine.
I fuss with the shirt's neckline, buttoning it higher to better hide the blue collar fastened around his neck, though it remains visible every time he moves.
'Mistress. How can I ever thank you? I feel wonderful. Perhaps in bed like yesterday?'
Adopting my cold stare, I ask, 'Have I instructed you to please me little Jamie?'
'Erm, no Mistress. I guess not. Sorry. I just thought that …'
I am about to remonstrate with him for 'thinking' as the doorbell chimes.
I see fear race through Jamie like an electric current. I guess he would do anything to avoid being seen dressed like this.
'Ah, she is early. Come on Little Jamie, it is time you met Mrs Edge. She will train you in your household duties.'