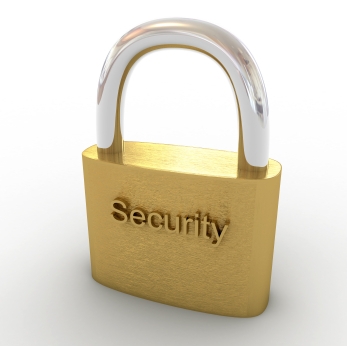 Horrible realisation!
The reason for the discomfort I am getting is that the CB6000 is not a genuine model! It is some cheap version, probably from the land of the rising sun. The main defect is in the 'rings' which rather than being rounded are flat with indents. These press into the groin area. I am sure that the proper CB6000with the curved rings would be far more comfortable.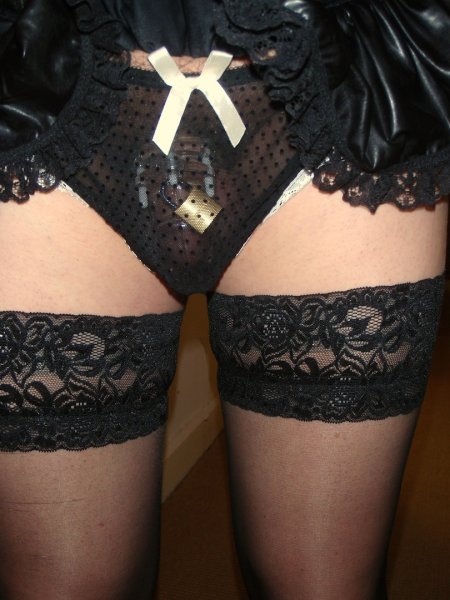 Blair had to go into work for a couple of days between Christmas and New Year. She dressed in one of her tight, sexy trouser suits. No skirt for the office, so she would be taken seriously by the guys there. I never had the heart to tell her that her curvy figure made the suit appear just as sexy as any short skirt. Her arse in particular was perfectly formed through the trousers. I often fantasised that my butt would look that good. I had shapers to help make my body more curvy, including the arse, but obviously could never achieve the same voluptuous size.
I was waiting for Blair to leave and Chloe to be picked up by her friends so I could get dressed and indulge my whims when she stood in front of me with a knowing smile.
She laughed at my quizzical expression. "Weren't you going to give me something to take to work?"
I gasped. Wow! She meant it.
"If you're sure," I said.
"You be the one to be sure," she giggled.
After standing like a lemon for a few seconds I bolted upstairs for the key to the chastity belt. All the way down I was wondering if I had misunderstood.
She was really amused, grinning from ear to ear, looking so sexy I wanted to hug her. I offered her the key and she accepted it.
That single act gave me a partial erection, one of my fantasies jumping to life.
She patted my cheek. "Give me a ring if there is a problem."
She slipped the key into a pocket just inside her handbag that had a small zip.
"I love you," I said feeling overwhelmed with gratitude.
"Easily pleased," she giggled and left.
Half hour after Chloe left with her provocatively dressed pals I was sat in front of my computer screen. Guess what I was wearing under my pants and shirt? A basque with stockings, matching panties and, of course, the CB6000. I trawled the net for stories about sissies in chastity belts with their devious wives and alpha male studs. Soon I felt my dick squirting into the condom and was in my element.
I removed the device before lunch so I could cum yet just a couple of hours later was wearing it again. It felt more natural to have it on then to be without it. Though I had the two spare keys safely hidden in the drawer, the very thought of Blair in her office holding my key was stomach churningly sexy. I was way too hot to even look at the shipping contracts.
With the CB6000 locked on I would rub myself up against the bed, tricking my mind into believing she had the key. I was deep in sub space working through the darkest of my fantasies.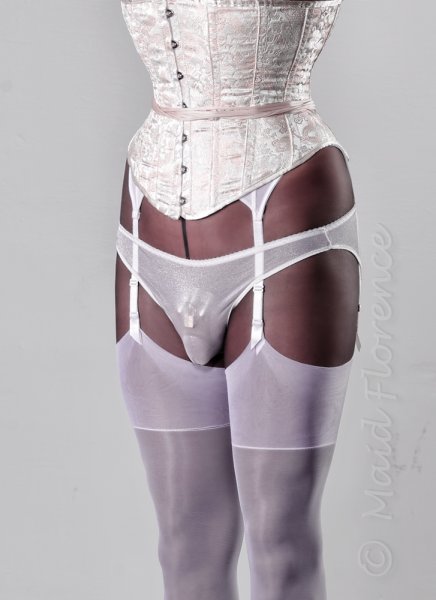 Blair returned home early wearing a huge smile, She handed me the key as soon as she got through the door.
I thanked her as I accepted it. I had actually removed the cage an hour or so before, but obviously I couldn't let on.
"How was work?" Iasked
"Oh mister 'look at me, big shot' was the usual pain in the arse. Don't I get a cup of tea for my efforts? I mean before you go up and have a little play?"
For the third time that day I had an erection. I breathlessly made her a tea as if she were my mistress.
She jabbered on about having to cover Morgan Hopkin's arse, how he was like a big kid all the time. I wasn't listening. In my mind I was saying 'yes mistress', 'no mistress.'
"And the jokes he was telling!" Her cheeks blushed as she started giggling. "He is really awful"
I swallowed, "If you don't mind I would like to …." I pointed at my groin. I felt like a little boy asking for permission. That made me even randier!
She flicked a wrist with a smile. "Oh you go and do what you must."
So I did!
The following day she worked from home and so nothing more developed until New Year 's Eve when I saw the fancy dress outfit she had hired for  me.  …. And do not get too excited! It wasn't a maid's outfit or any girlie outfit, but it did make me cross.