For decades The Hotel has maintained a high level of security over its training methods for sissies. This is believed to be the first ever video smuggled out of their maximum security educational faculty.
1
2
This is believed to be the more advanced course for sissies who have mastered quickly jiggling in heels around offices and The Hotel corridors .
The ballet shoes offering a  good reminder of the sissy's position.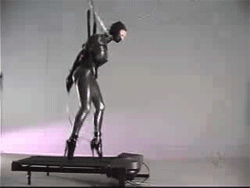 3
Finally, the excruciating punishment for sissies who fail to attain a Grade A in walking in heels. For those with strong stomachs you might like to know that the sissy has been locked in chastity and is unable to satisfy herself. Her frustrations and tears will soon have her begging to be allowed to re take the walking exams.
If your wife suggests a weekend break at The Hotel make every excuse you can to avoid falling into their clutches.