For Whom The Collar Bell Tolls
Originally published on the internet some years ago it has now had the dust been blown off it, been updated, re written and vastly improved – well re written anyways.
Available at nearly all the electronic publishing outlets.
For Whom the Collar Bell Tolls is a chilling tale that will alarm delicate sissies everywhere.
As clever as Terrance knows he is, he nevertheless accidentally locks himself inside a maid's outfit. His sexy attire consists of constricting corset, chastity cage, sky high heels and, worse, (please sit down before you read this), a collar with a tinkling bell securely fastened around his neck.
He could think more clearly if his arousal wasn't bringing to life Terri, his slutty, girly alter ego. If it wasn't for the confounding chastity belt he could 'lighten his load' and rid himself of his sexual tension.
Terri would delight in phoning hunky firemen to help her escape except Terrance is chewing on a ball gag locked about his head so can only make muffled pleas to anyone who finds him. Obviously he could text his wife and make up some story about what has happened … except his hands are cuffed tightly behind his back.
His appalling, humiliating plight descends into hell as his wife brings home her insatiable, lusty lover with a penchant for sadism.
Even the slightest of movements will set off the ringing bell
And this is only the first chapter!
Warning: sissies should have a good supply of smelling salts before reading this.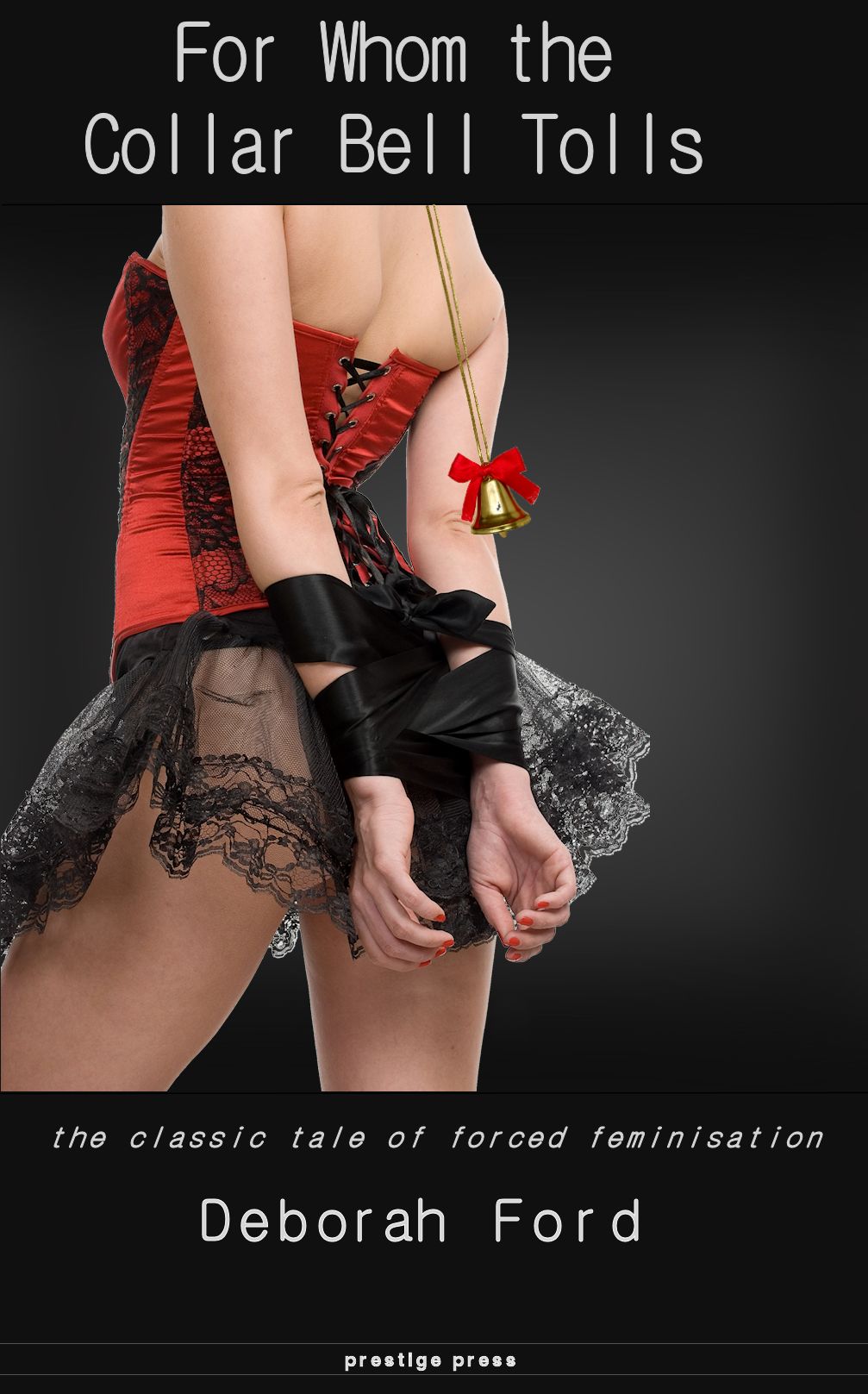 Warning : Please do not read if you are of a nervous disposition.

Other Deborah Ford  novels for sale
Click the book, else search on your own country's Amazon page. Available also at Lulu, ibookstore and many others.
Warning:    all nervous sissies should ensure they are sitting down when reading these distressing tales of cuckolding and chastity with sexy, but often, dominant wives. Stories sometimes include the bullying, macho lovers of their wives. Please always gain permission from your owner before downloading any of the books. The Hotel accepts no responsibility whatsoever for any sissy feinting, seeking the help of qualified therapists or discovering that their master or mistress has learnt new tricks to subjugate their pet. The books are purchased at the buyers risk. No responsibility will be held for any life changing events that occur following the reading; this to include the discovery of new fetishes or the awakening of hitherto hidden desires. Our lawyers Sue 'Em and B. Damned will not accept any liability but will offer a handkerchief for distressed sissy maids who now find themselves trapped in service.