edited 9/12/15, 10/12/15
Tugging the lead in order to haul him to the centre of the room I watch his cute bottie in the sexy panties with the bow perched right on top of his bum. I could not have chosen a more humiliating pair myself.
I tap the cane on his bottom and a nervous head turns to look up at me.
'Now this is the dining room little boy.'
The ladies online are adamant that the first action with the newly collared boy is to show him the house as if for the first time. The idea behind it is to give him a new view of his position in each room.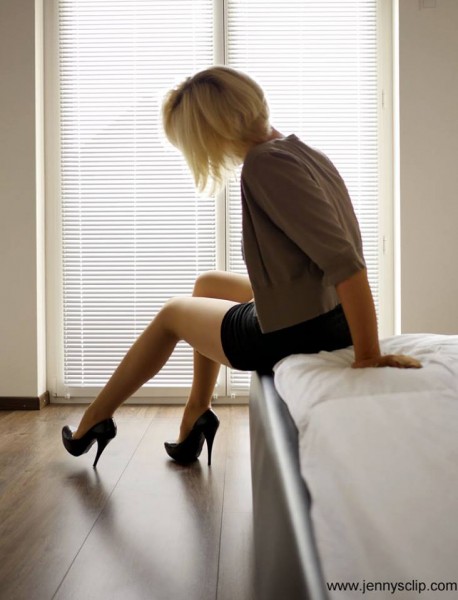 He gazes at the table with its collection of high back chairs, the sofa and the tv. The curtains are drawn across the patio windows, not that it is easy to see into our back.
'The dining room is where you will serve food and maybe drinks. Ok?'
'Erm, yes Mistress.'
Oh the poor, little boy just appears nonplussed. I might as well have read a piece to him about the history of Greece, in the original Greek.
'Come along.'
A sharp couple of taps on his bottie have him scurrying forwards until I snap back the leash. He will walk around the house at my pace. Which is going to be very leisurely indeed.
'Here is the hallway. So here you will collect the post and sort it and answer the door.'
A flash of horror from him. I tell you, inside I am killing myself laughing. 'Oh Little Jamie, don't look so shocked. You won't always be just wearing panties.'
I hear a sigh of relief as he takes in the carpet at his splayed fingers.
'You have always wanted a full maid's uniform haven't you?'
'Mistress?'
Settling down beside him I tickle his hot cheek, the one on his face!
'Oh, do not be so terrified. It won't be one of those silly little maid's dresses people wear on Halloween.' I look over his head in thought. 'Though, we will get a few of those too. No, what I want to see you in is a real housekeeper's uniform.'
I rise giggling while he gazes at the front door, which must now appear to be some sort of threatening enemy. He knows he dare not speak, let alone argue. His world is changing and he can't do anything about it. Not a single, tiny, little thing.
'And into the kitchen boy.' I lead him onto the wooden flooring of our large kitchen with the central work services. 'This is where you will prepare meals. Don't worry. I am going to have you taught how to cook by a professional.'
He mouths some words but dares not say them. If only he knew that the 'professional' is a lady from just ten miles away who will be training him. A regular on Genie's website. A lady who appreciates fine cooking, neat domesticity and despises the male of the species.
Obviously, I won't let her terrorise him too much, but the feeling on the site is that it is better if the boy fears someone other than their mistress. The theory being to inculcate in the boy's mind the nightmare that out in the world there are terrifying ladies all too eager to come and give him hell for misbehaviour.
Most people don't know of this entire universe of fem dom that has grown up in the country thanks to the web. A place where likeminded women share and exchange ideas to manage their troublesome boys.
'And over here, come along boy, no dawdling, is our utility room. Not a place you have frequented much since we moved in. Further back you can see the laundry room. The ironing board remains in the middle, ever ready for you to ensure that everything from my blouses to the pillow cases are sharply ironed. Just like those in an up market hotel. Again I have someone who is willing to spend time enhancing your skills at domesticity. Isn't that cool Little Jamie?'
'Mistress, Mistress, please may I say something?'
I sharply pull the lead making him stare up at him. He is just so impossibly cute! It is like having an eager to please child in the room.
'If you must.'
'Well, I …'
He loses his courage. The memory of the beating will be seared into his backside for a while yet. Worse for him he is on all fours, on the end of my lead, wearing nothing but a pretty pair of panties and his chastity cage.
'Go on boy, I don't want to have my time wasted.'
'Well. I don't know what's serious and what isn't. I mean these two women you are talking about. I don't want anyone seeing me like this.'
Crouching down I stoke his hair, the way some might a puppy. 'Aw. Two women aren't going to teach you domesticity darling.'
It finds a smile of relief as if he suddenly sees that we are in a game.
I pause long enough to ensnare him. 'There will be five different ladies, and one gentleman who will coach you in your new skills.' I laugh at him. 'Silly boy. How could just two women know everything there is about all you need to become proficient in?'
I rise and tug the lead taking him onto the cold tiles of laundry room. And there at the back of the utility room are the washing and drying machines. Got it?'
He doesn't say anything before I am already ushering him back to the hallway with my crop.
We reach the sitting room. 'This is an important place for the maid of the house and for my Little Jamie. You are not allowed to sit on any of the furniture without express permission. Got that?'
'Yes Mistress.'
He speaks quietly but I buy his acknowledgment. I don't wish to be too cruel.
'Think of it like a puppy in the house. Banned from all soft furnishings.'
'Yes Mistress.'
'So in here you will serve just as you always fantasised about doing. Remember all those pictures you showed me of male maids with their silver trays? Oh what a sight. Well that will be happening here. For me. I can hardly wait. Come along.'
Hearing him choke as we go back across the hallway to his downstairs studio I feel a tinge of guilt. I must be more careful. I have read the instructions about taking people on leads. Apparently you have to be careful of self-closing doors, staircases and floors going across different levels. No one mentioned chocking your pet with an inadvertent fast twist.
I give the downstairs bathroom a miss, we will cover it upstairs.
The studio is his lair. A large room with a running machine, his computers with their three screens, a tv and a sofa. He spends a load of time in here watching football and of course scouring through the internet for his pervy porn. Mister Young is to be with us tomorrow to sort out his computers and phone. I feel it wise not to torture him with all that. The poor soul has enough on his plate.
'So here is your studio where you will do your graphics work like a good boy every morning between 9 and 12. Outside those hours you are mine Little Boy. Totally,' I tap his cute, ink pantied bottom in time with my words, 'inevitably, forever mine.'
'Yes Mistress.'
'Right upstairs.'
I hear him moan so slap him hard with the cane across his thighs. He yelps like an animal but scampers forwards.
'Come along. No disobedience. You know what happens to naughty little boys.'
So I take the stairs charily, one treacherous step at a time, just so he can keep up without stumbling.
'Our landing area. Which must be kept clean. And here is the Mistress' bedroom.' I direct him into what had been our room with its panoramic windows overlooking the hills and its beautiful King sized bed. 'You should always knock before entering here. You never know what you will find beyond the door.'
'Erm Mistress?'
'Yes Little Jamie?'
'Well, sorry to ask. Please don't hit me, but we are only taking this as far as Monday aren't we?'
Those huge eyes! You could sell tins of chocolates with his eager face pictured on the lid.
'Of course we are silly.' Nestling down I tickle his ears as his eyes fix on my stockinged thighs. I guess he can see the suspenders from his position. I wait until he smiles before adding, 'So long as I have a good, little boy.'
Oh, that panic in his face! So cute!
Suddenly he lunges forward. My first thought is that he is attacking me, but actually he is kissing my legs, up and down just below the skirt hem.
'Mistress. Please. I am so hot. Please unlock me. Please. I will do anything. I just need release.'
And double wow! That came from nowhere. I rather thought I would face an insurrection before his submission.
Moments later he is kissing my high heeled sandals. 'Please Mistress. Please.'
I am lost for words. Exactly what I am not supposed to be. Not over. As Genie at Gatemare says, 'A mistress controls. That is what she does. A boy obeys.'
But no one had mentioned this. Not within hours of being locked away.
I know it is wicked but when I squat I spread my thighs wide so he can see my stocking tops and probably my panties. His eyes are half closed, mesmerised at the sight.
I speak softly, warmly, as if he is a mere child. 'All you have to do is get through the next few days and be a good little boy. Do you think you can manage that?'
Tickling his ear, I watch as he cranes his head towards my fingers, desperate for my touch.
'Yes Mistress,' he mumbles.
'I am here to help you through your transition babes. I am on your side.'
'Yes Mistress.'
Oh lord! Now I am in deep sexual heat. I need to be fucked. If this works out, as the ladies on the web site say, then Little Jamie will never be servicing my needs again – well not those needs! I can look forward to a string of well hung bimbo studs frequenting my bed. Guys whose only purpose on this planet is to provide satisfaction to 'hot wives.'
But that is months down the line and I need gratification right now! Why the hell should I suffer because his training will take months?
Snatching the lead, I hear him choke even louder than down in the sitting room. But right now I don't give a rat's arse about him.
'Get over to the bed.' I correct myself, 'My bed!'
We have the upstairs bathroom, the guest rooms and his new room to view but hell's teeth, what needs to be done must be done. And right now I need to be done!
I snatch a long silk scarf from a wardrobe rail and say, 'Quick, little Jamie. Up onto the bed like a good little boy.'
He joyfully obeys.
Though he doesn't know what's coming, only I and a few hundred ladies on the websites know!